What makes a wine special is its ability
to transmit its essence,
Unique and limited edition wines
We do not conceive the idea that a wine does not tell a story. Each of our wines is unique and comes marked by a climate of contrasts, a great diversity of soils and an exceptional orography. Feel the notes of our vineyards in each bottle, delve into a world of aromas to identify subtle flavors and learn about the history of our terroir through them.
If you want to know the wine
You have to see the colours of the grapes
You have to smell the soil
You have to listen to the silence of the wine cellar
You have to touch wood and iron
… and then when you drink you will understand the wine.
A UNIQUE EXPERIENCE IN PRIORAT
Experience the adventure of traveling on a Land Rover Santana 4×4 from 1975; our beloved "Daisy". She will take you to our old vineyards at the foot of Montsant! A short excursion where you will have a fun time while getting to know the characteristics of our unique terroir.
Being pioneers in wine tourism in our region has led us to become a benchmark today and has made it possible for more than 7,000 people to have visited our vineyards and our winery.
All our Magic Wines and Expression Wines have the official CCPAE certificate and very soon will also be added our exclusive Wines of Author.
We believe that organic agriculture is the way forward to achieve sustainable production and fight for the conservation of the environment. This farming model of regeneration and organic fertilization makes the vines grow healthier and retain all their authentic aroma, color and flavor. Characteristics that are transmitted to the wine while improving its quality considerably.
gold medals in the main
international competitions
silver medals in the main
international competitions
points from the most prestigious
opinion leaders
David Serarols
09/05/2022
NO US HO PODEU PERDRE! Vam tenir la sort de gaudir de la visita a les vinyes amb el 4x4, on l'Alfonso va demostrar que en sap molt i que sap explica-ho molt bé. Després la Glòria ens va guiar pel celler, explicant-nos l'elaboració i per acabar una fantàstica cata d'un munt de bons vins. La Glòria barreja lliçons i anècdotes, fent passar una magnífica estona.
Lo hemos pasado genial con Alfonso y Gloria.. Una experiencia super recomendable por la calidad de sus vinos y por la chispa y alegria del personal.
rosa maria esquirol rigau
07/05/2022
Una experiència genial! Glòria es fantàstica, una molt bona estona, totalment recomanable.
Eugenio Alvarez Mercan
01/05/2022
Molt recomanable la visita.
Eduard fernandez blanch
25/04/2022
Fantastica visita a les vinyes i al celler i un fantastic dinar.
Kevin Anastasio
24/04/2022
Muy buena experiencia. Trato inmejorable y muy buenos vinos. Recomendable 100%
Soraya Ortiz Garcia
24/04/2022
Una experiencia genial, el trato excelente,Alfonso y Rafa los mejores anfitriones y los vinos buenísimos. Totalmente recomendable.
Laura Hernandez
24/04/2022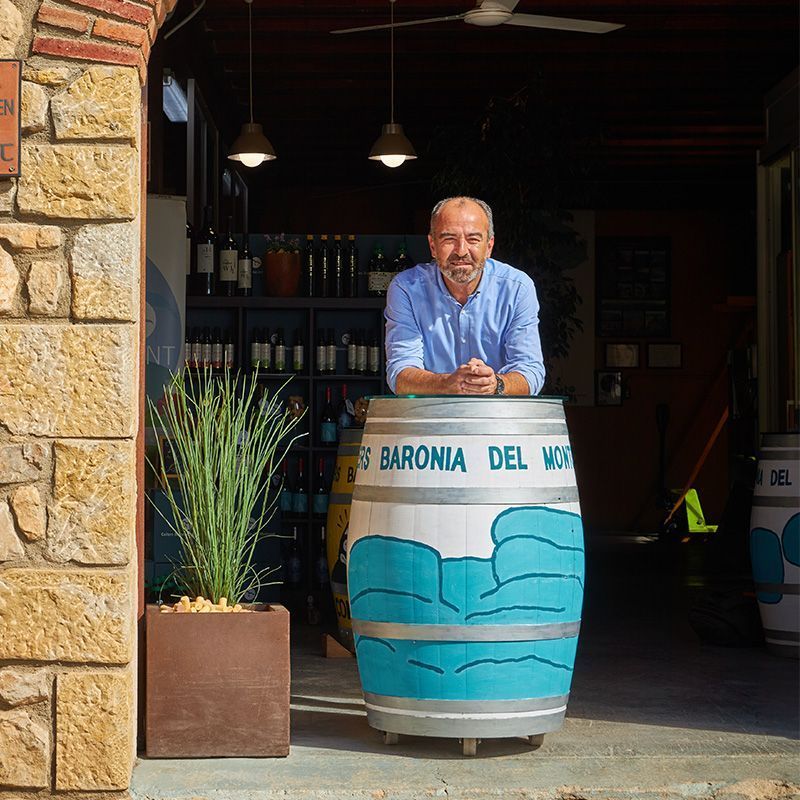 It all started in 1998 in the foothills of Montsant, find out about our essence.
The place chosen for our project gives it a unique personality. Very close to one of the towns listed as one of the most beautiful in Catalonia, as is Siurana, they also give the winery an air that evokes medieval times, full of history and romanticism.